<!-ShowPage(index.html)->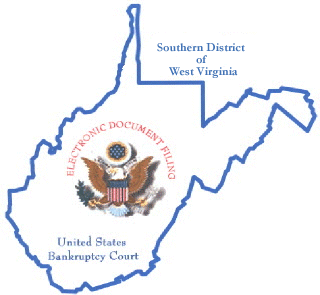 Welcome to the U.S. Bankruptcy Court for the Southern District of West Virginia
<!-ShowPage(OperationNotice.htm)->
---
CM/ECF NextGen 1.6.3

This is a restricted government website for official court business only. All activities of CM/ECF subscribers or users of this system for any purpose, and all access attempts, may be recorded and monitored by persons authorized by the federal judiciary for improper use, protection of system security, performance of maintenance and for appropriate management by the judiciary of its systems. By subscribing to CM/ECF, users expressly consent to system monitoring and to official access to data reviewed and created by them on the system. If evidence of unlawful activity is discovered, including unauthorized access attempts, it may be reported to law enforcement officials.
---
PACER Access Restrictions
The Judicial Conference of the United States has amended its policy on privacy and public access to electronic case files by restricting access through the PACER system to documents in bankruptcy cases filed before December 1, 2003, and closed for more than one year. The docket sheet and docket information for those cases can still be viewed in the PACER system. However, only parties that appeared in the case using their unique ECF login account will have access to papers filed in the case. All papers filed in such cases, except those under seal, will remain fully accessible at the clerks' offices.
This restriction to access occurred automatically with the court's upgrade to CM/ECF Release 4.2 on November 20, 2011. Access to documents in bankruptcy case appeals filed in the district courts, bankruptcy appellate panels, or courts of appeals for bankruptcy cases filed in the bankruptcy court prior to December 1, 2003, is similarly restricted. For more information about public access to court documents, click here.
---
3September2020
Court Information